Sponsored Students Give Back to Their Community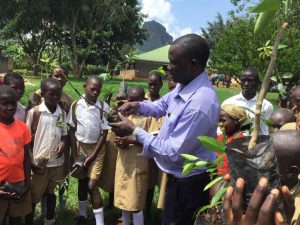 In May 2016, the 63 sponsored children in the Family to Family Program and their adult leaders planned and took part in their second community involvement activity — planting fruit tree seedlings! The students planted the trees at the Prime View Education Centre Nursery and Primary School where most of them attend! The goal was to teach the children to protect and conserve their environment and demonstrate that they have the ability to give back to their community. Eventually, the fruit from the trees will benefit the students at the school. The students planted mango and other fruit trees and each child named the tree they planted. The purpose of having the students name their trees is to motivate them to take care of their tree. After they learned about the importance of conserving their environment and planting their trees, the children shared a delicious lunch.
Volunteer Travelers Offer Medical Care, Training, and Help Construct a Demonstration Chicken Coop
This past March, 10 Give Us Wings volunteers traveled to our sites in Uganda for a 10-day service trip. The volunteers spent their days working at a variety of projects.
Some of the volunteers helped a family build a chicken coop for their new poultry business. It is a demonstration coop that others in the community can replicate if they want to start their own poultry business.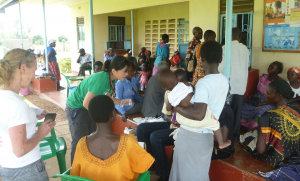 Other volunteers worked at the St. John's Kayoro Health Center II providing immunizations, cancer screening, forums on pre- and post-natal care and postpartum depression. They also went into the community to speak to young people at a local high school about the importance of preventative medical care and offer de-worming medication.
Their days were filled with meeting community groups, spending time with local families, and working on projects. They returned to the US with a greater understanding of the challenges our partner communities face every day and a deep respect for the hard-working and loving people in Uganda. Give Us Wings is grateful to the volunteers who travel with us. They create connections with our partners and become the caring face of Give Us Wings in those communities.  Learn more about Give Us Wings Volunteer Trips.
There's much more in our SUMMER NEWSLETTER!