WELCOME to the latest edition of the Give Us Wings quarterly e-newsletter. Please take a few moments to learn about some of the important work you make possible as well as ways you can help Give Us Wings to keep moving forward. There is much more work to be done!  Keep reading below, or click here to be directed to the newsletter in its entirety.  Want to be on our mail list? Email us at director@giveuswings.org.
December 2017
In this issue: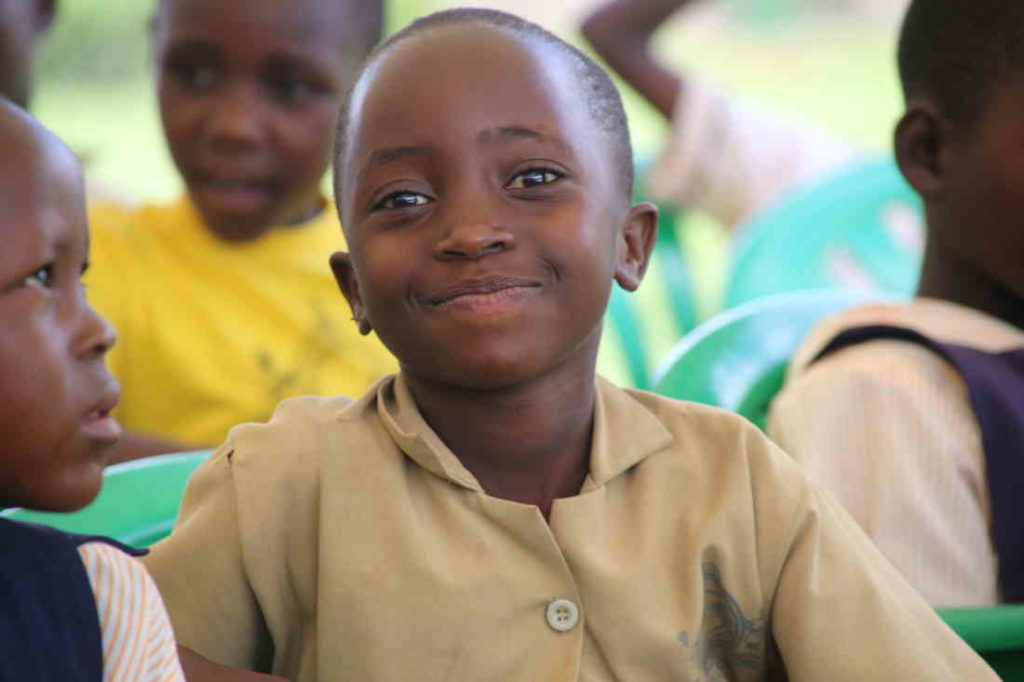 Empowered Parents
Staff Housing at SJKHCII
Community Strength
Sponsored Students Study Tour
Multi-purpose Coop Society
Grand Canyon Rim to Rim Success
Remembering Rose
Upcoming Events – SAVE THE DATE: APRIL 21, 2018 – 19th Annual Celebration
Video
Empowered Parents Advocating for Themselves and their Children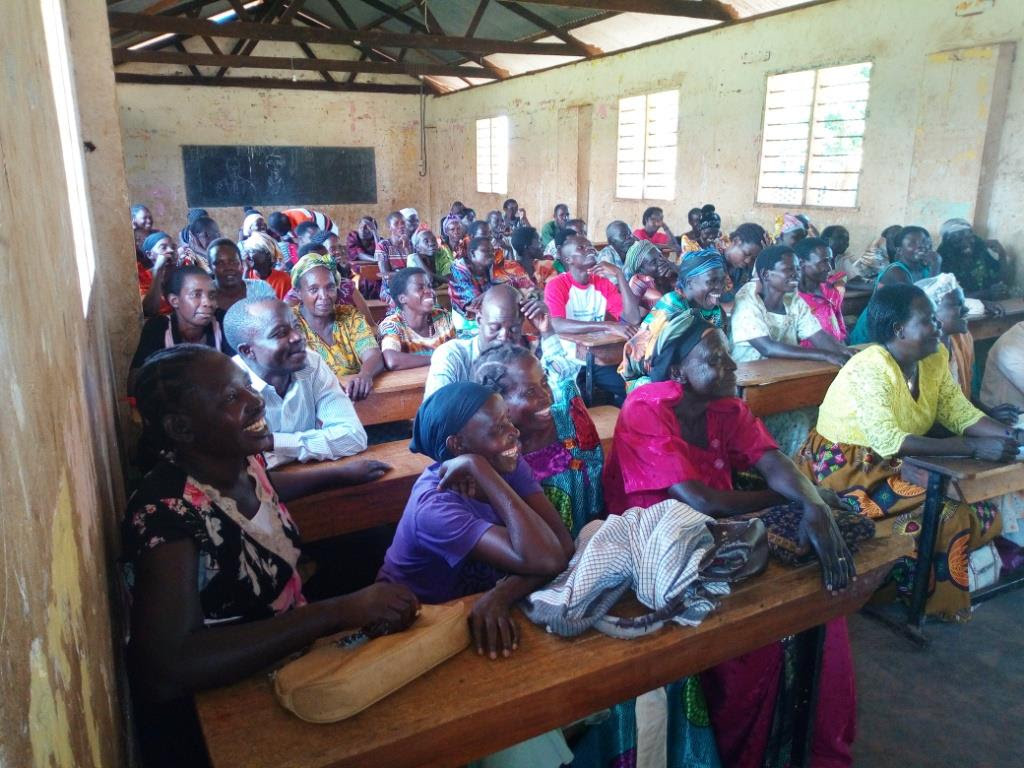 An integral element for the success of Give Us Wings' Family to Family program is the Parent Forum.  Parents of sponsored children meet regularly to learn and share. Two years ago many of these parents were unsure of the purpose of such forums, now they eagerly look forward to them and participate with great enthusiasm. The most recent forum was held on December 5. They discussed feeding and nutrition, parent-child relationships, community and social values and ethics,  sleeping conditions, and the importance of play and recreation.
Staff Housing Construction Underway at St. John's Kayoro Health Center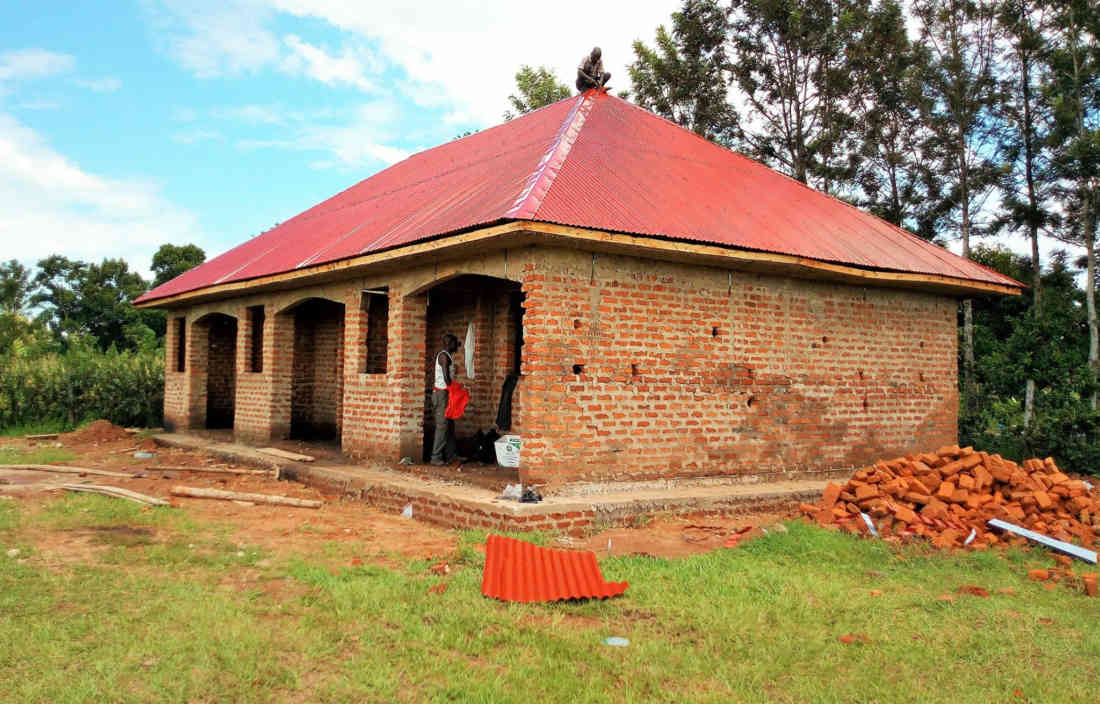 Thanks to a generous donation from St. John the Evangelist Episcopal church in Saint Paul this past summer, construction began on staff housing on the grounds of the Health Center! And thanks to 37 donors who gave generously on Minnesota's Give to The Max Day (Nov. 16), we raised another $3,070 — enough to add shutters to the building. We should have updated photos soon. When complete, the structure will house three medical staff, enabling the health center to be available to serve patients 24 hours a day, 7 days a week! This will also move the health center closer to achieving level III status. More money is needed to complete this project, and we will be actively seeking grants and donations in the coming months, but we, and most importantly, the people in Kayoro and Tororo, are thrilled with this development. Thank you to all who contributed!
Community Strength through Training and Sharing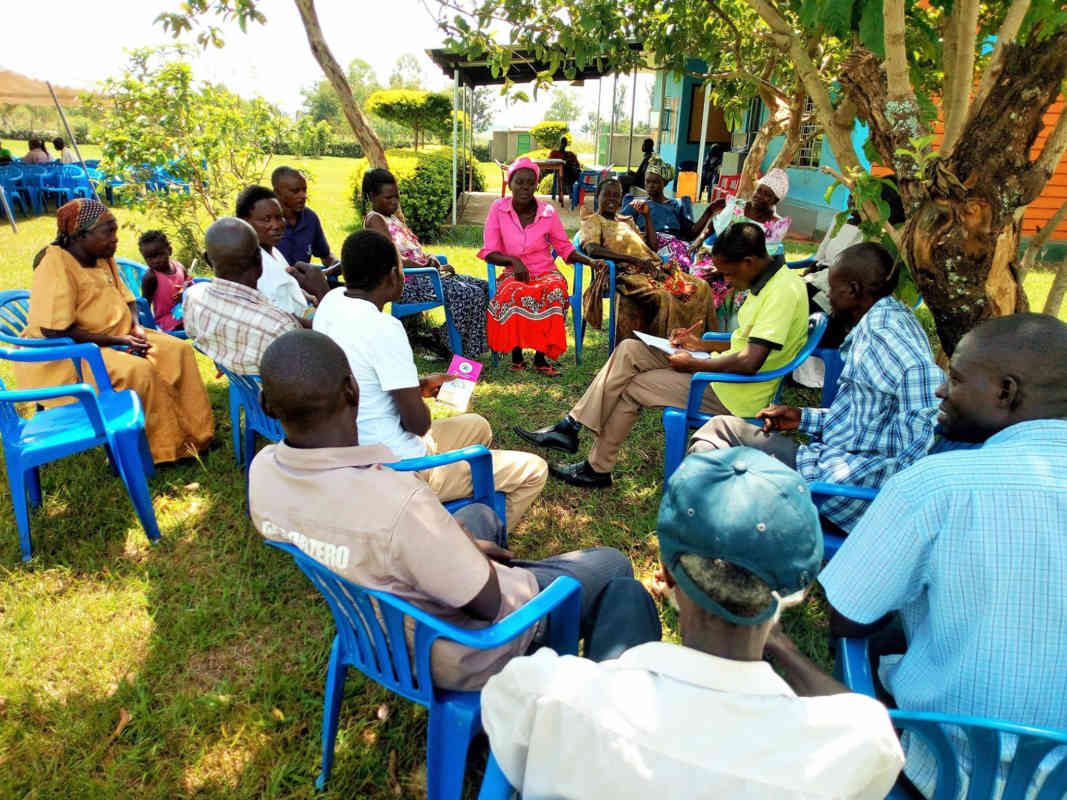 In October and November, Give Us Wings Uganda staff organized group trainings and facilitated many community discussions regarding Community Group Capacity, Self-Assessment, Leadership, Group Governance, Financial Management, Business Planning and Development, Communication, and Member Participation.
Sponsored Students Study Tour (i.e. Awesome Field Trip!)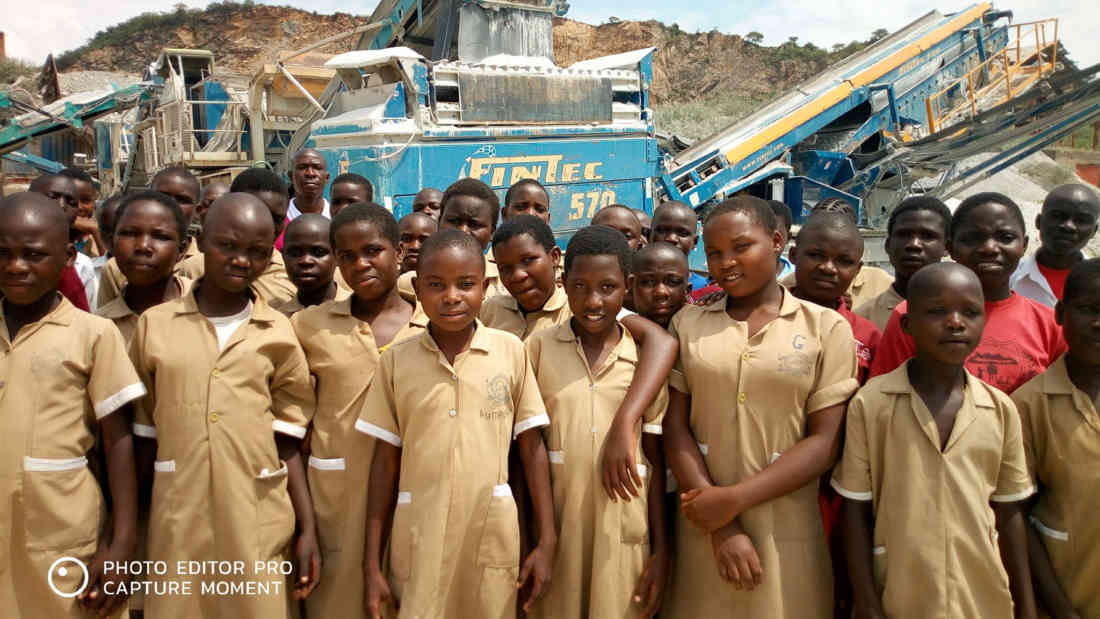 On December 7, Give Us Wings Uganda staff, along with members of the community and school, took the children on an extensive learning trip. For most of the 75 children this was the very first time they had ever traveled outside of their village.
The children visited three sites:  Tororo Cement Industry, the largest manufacturer of cement in Uganda; Kibimba Rice Business, where the children learned about how irrigation is being carried out; and Bugisu Cooperative Union, a Ugandan agricultural cooperative started and owned by coffee farmers. The Give Us Wings Uganda staff report that the purpose of this "study tour" was to "engage them in a kind of 'fun as you learn' experience outside the traditional classroom setting."
After the tour, the children and staff returned to Kayoro to enjoy their annual Christmas party filled with good food, dancing and playing, which we know are also important elements to children's growth and development. The children are now on their winter break and will be back to school on February 6 to start the new school year.
The Children Forums is an important aspect of the Family to Family Program. Thank you to all of the sponsors who make these opportunities possible.
More Ugandan children are waiting. Click here to learn more about how you can become a sponsor in 2018!
Kayoro Osukuru Multipurpose Cooperative Society Keeps Moving Forward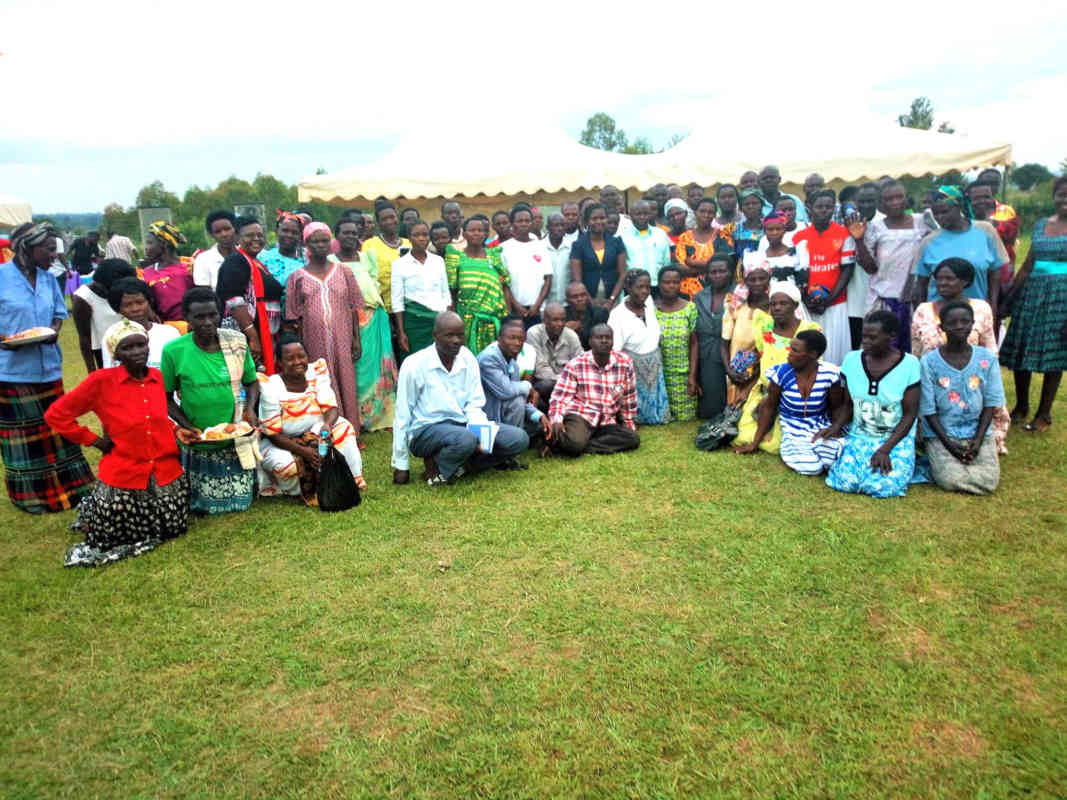 Many of the groups in the community have decided to join the newly formed Kayoro Osukuru Multipurpose Co-operative Society (KOMCOS), which is "aimed at improving the economic livelihoods of the communities within the Tororo district through bulking and marketing farmers' produce." In September, with assistance from the GUW Uganda staff, the KOMCOS held a meeting and elected Board officers and members. We were very pleased to learn that community members elected Adikini Mary Francis, from the Salama group, as Board Chairperson. Angesu Geoffrey from the Makimoth group was elected Board Secretary, and Osilo Josphine from the Katonda Mbera group was elected Board Treasurer. This very determined and organized group met again in October for an intense 3-day leadership course, and again in December to further discuss and their goals regarding loan services, warehouse construction, community health insurance participation, education savings, and their produce business. In her most recent letter to KOMCOS members, Chairperson Mary Francis Adikini said, "Members, KOMCOS belongs to all of us. Our success therefore is in our hands. Together we shall succeed!"
Grand Canyon Rim to Rim Success!
On September 24th this group of intrepid hikers traversed the Grand Canyon from the South Rim to the North Rim… 26 miles… in ONE DAY! They set out at about 5:00 am and began to work their way down the steep switchbacks, hiking through six climatic zones and finishing step-by-step up the 8,000 feet of the North Rim Trail. Despite their incredible training, this was a grueling task. The last hikers emerged from the canyon just before midnight.
Together they raised $9,000 for Give Us Wings programs!
Thank you to each one of these strong people, and to all of their wonderful supporters and donors.
Remembering Rose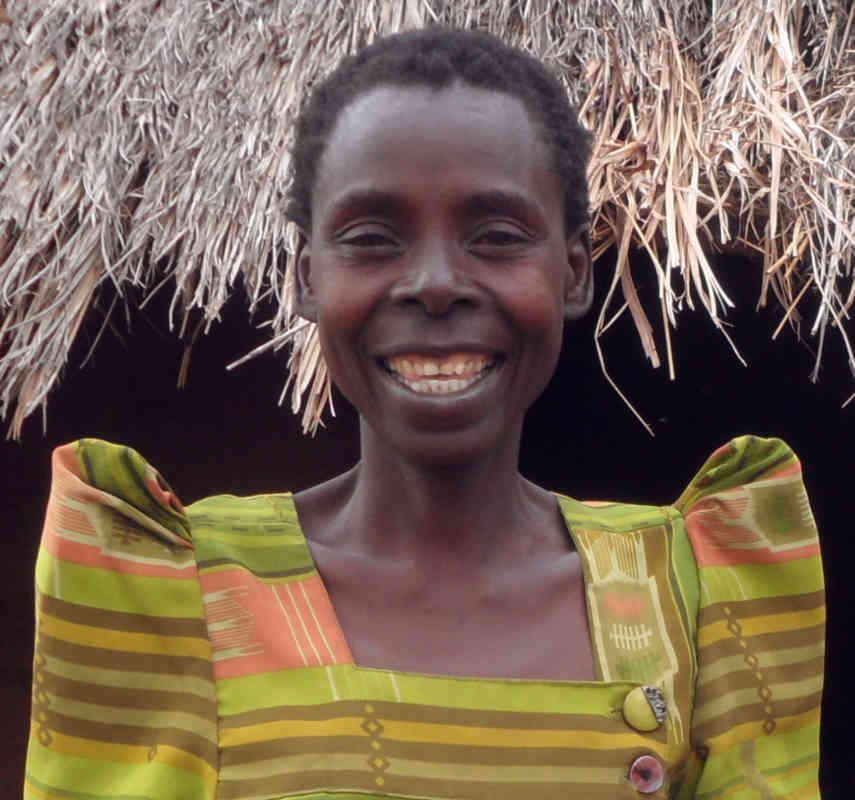 Give Us Wings  lost a lovely member of our community at the end of October. Rose was a treasured member of the Katonda Mbera group in Tororo, Uganda. She was known for her kindness and generosity. She is sorely missed by her friends and family, and by all the US volunteers who had the pleasure of meeting her on a trip to Uganda. Despite her very serious heart condition, Rose continued to work hard in her garden when she felt well enough. She was determined to provide for her children and grandchildren. Because of your generosity, Give Us Wings helped her access and pay for medical expenses over the years, lessening the impact and pain caused by her condition. At our 2014 celebration, Give Us Wings featured Rose in our Profiles of Courage. She was courageous indeed.   Rest in peace, Rose. Thank you for all that you taught us about taking care of each other.