WELCOME to the latest edition of the Give Us Wings quarterly  newsletter.  Please take a few moments to learn about some of the important work you make possible as well as ways you can help Give Us Wings to keep moving forward. There is much to be proud of, and much more work to be done!
MARCH 2018
In this issue:
–19th Annual Celebration! April 21, 2018 – Minneapolis
-Sponsored Students' New School
-Construction Continues for St. John's Kayoro Health Center Staff Housing
-Successful Volunteer Trip
-Met Sam Mani, newest Board Member
Tickets on sale now for 19th Annual Celebration!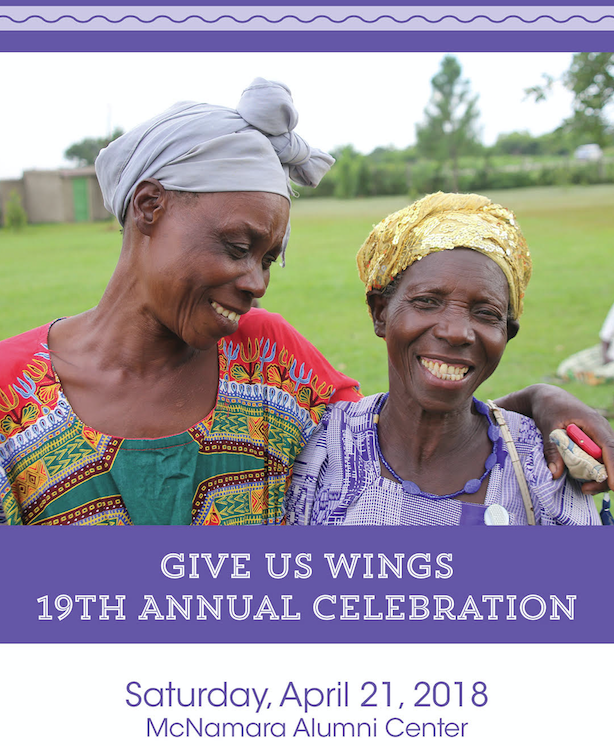 Early Bird Prices until March 30
Regular Prices March 31-April 13.
Must be purchased in advance.
MUCH more information here.
Sponsored Students' New School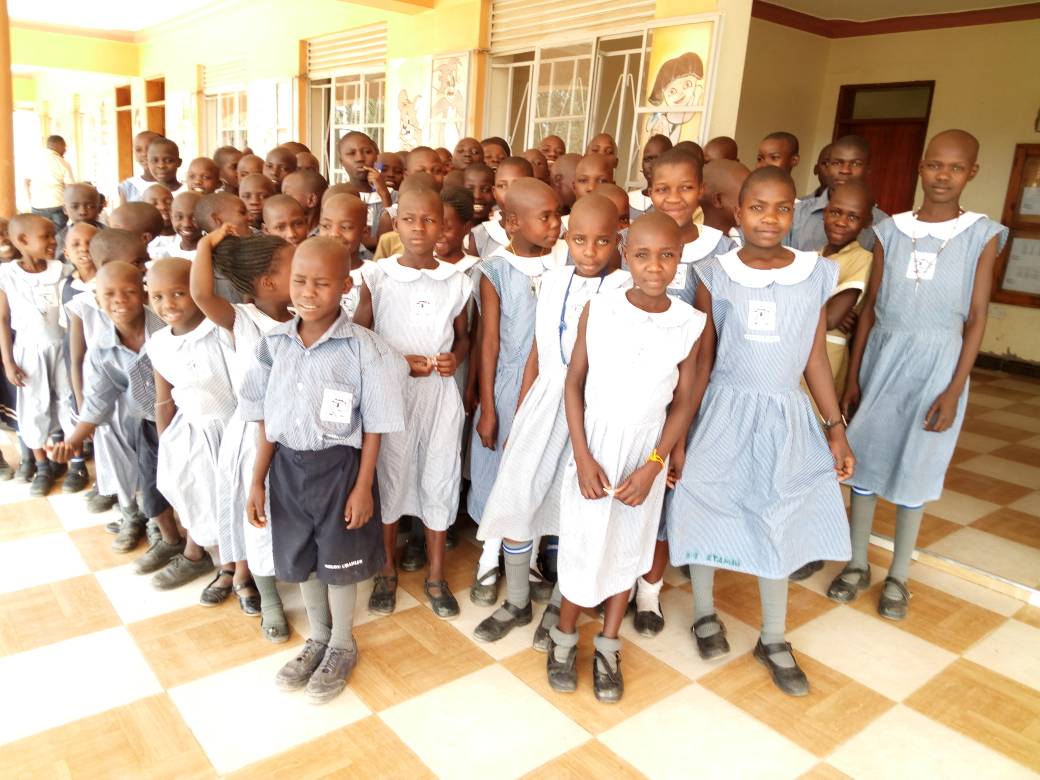 The empowered parents of the 75 sponsored children are making great strides advocating for their children, particularly as it applies to their education. Last summer the staff at Give Us Wings Uganda and parents made specific requests of Prime View Education Center for improvements related to transportation, safety, food and facilities. All the changes were promised, but unfortunately only some of the changes were made. As a result, GUWU staff began the search for a school that would meet the specifications and serve the sponsored students better. On February 5, as the 2018 school year started, the sponsored students were registered at a new wonderful school, Mama Jr. The children are now in Term 1 and are settling into their new surroundings. Th e parents and children are so grateful for their partnership with Give Us Wings through the Family to Family sponsorship program! We will share much more information with you at our event on April 21st. You can also learn more about Family to Family by visiting our Family to Family page on our website.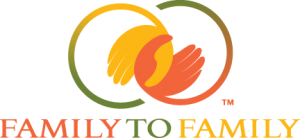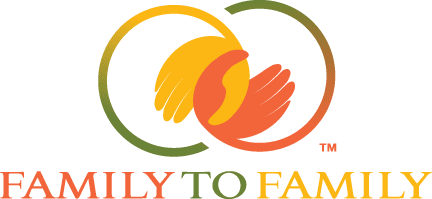 Construction Continues for St. John's Kayoro Health Center Staff Housing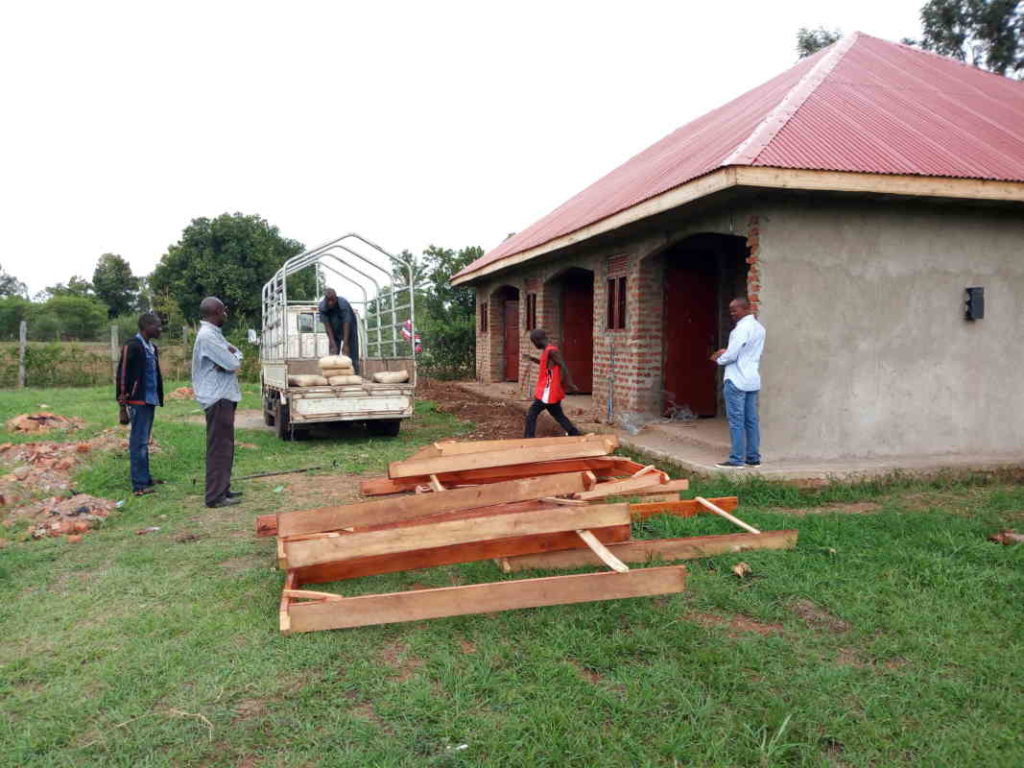 Thank you again to the members of St. John the Evangelist Episcopal Church in Saint Paul who funded the beginning of the construction of the medical staff housing for the St. John's Kayoro Health Center II this past summer. Thank you, as well, to all of you who donated on Give To the Max Day last November; your $3,000 made it possible for Give Us Wings Uganda to purchase and install secure windows and doors for the staff housing. Mostly recently, at the end of January, Give Us Wings received a $5,000 grant for the staff housing from the Baillon Family Foundation. Those funds are being used to plaster the units and for some other construction needs. Additionally, plumbing is now being installed! Give Us Wings will continue to actively seek out funding options for the staff housing construction project. St. John's Kayoro Health Center is now very close to being a level III facility! We've made so much progress since August. Thank you.
Successful Volunteer Trip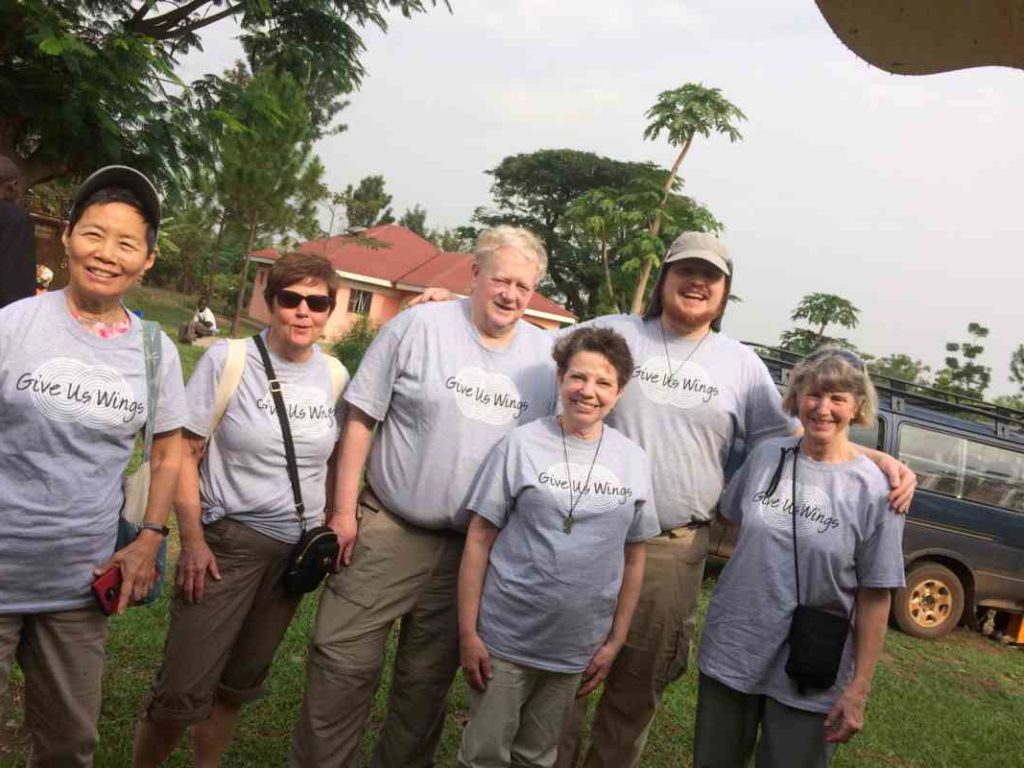 Six wonderful Give Us Wings volunteers just returned a few days ago from 10 days in Uganda. They left on March 1st with hundreds of pounds of vital medical supplies, vitamins and pain relievers donated by friends and relatives, and returned home on March 13th with suitcases full of beautiful pieces of African art that will be featured in our boutique and silent auction on April 21. They spent days with community members, learning, listening, sharing and helping. One day, the volunteers spent time at Mama Jr. School visiting sponsored children. Another day, they also participated in an extensive health care outreach in a remote community and helped with testing for diabetes and Hep B, family planning, distribution of deworming pills and vitamin A, and testing and distribution 500 pairs of free reading glasses from Restoring Vision. Volunteers shared meals and days with families in Uganda. Some volunteers helped to plaster the new medical care staff housing. Some attended a meeting of the new business/farming cooperative. Some helped with HIV/AIDS testing. Some participated in a reproductive health education session for high school boys and girls, and distributed Days for Girls kits. As with all three trips this past year, this group of volunteers formed a new appreciation and understanding of the work that is being done with the people involved with Give Us Wings.  Look for photos and video footage taken by volunteers on this trip and the two trips in August to be featured in our video on April 21st!   We do not yet have a date for our next volunteer trip to Uganda… but stay tuned and let us know if you're interested! For more information on our volunteer trips (and other ways to volunteer) visit the "Take Action" section of our website.
Welcome Sam Mani : Give Us Wings' newest Board member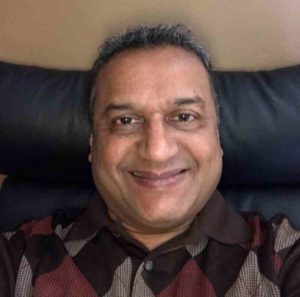 Give Us Wings is pleased to welcome Sam Mani to our Board of Directors. Sam is a long-term Finance Executive and has worked in the corporate world for several years in various capacities. He holds a professional designation in accounting (CPA, CGA – Ontario, Canada) and a Master's degree in Business Administration (MBA – Wilfred Laurier University, Canada). He's also a Certified Network Administrator. He's worked in North America (Toronto, Canada and Minnesota, USA) for more than 25 years.
Sam tells us, "I am planning to spend a good portion of my time giving back to the community, utilizing my experience and skill sets. I was fascinated to learn about Give Us Wings and the tangible improvements that this organization is making on people's lives. I am particularly attracted to this organization because of my affinity towards East Africa, since I lived and worked in Tanzania for some time. Having lived in 4 different countries and 3 different continents, I have come to appreciate humanity and admire its values. I am honored to serve on the Board of Give Us Wings and I look forward to contributing for its growth."
Welcome Sam!
Learn more about our Board of Directors.
Click here to be directed to the newsletter in its entirety.  Want to be on our mail list? Email us at director@giveuswings.org.