WELCOME to the Summer 2018 edition of the Give Us Wings quarterly  newsletter.  Please take a few moments to learn about some of the important work you make possible as well as ways you can help Give Us Wings to keep moving forward. There is much to be proud of, and much more work to be done!
Results from our 19th Annual Celebration!
Family to Family: Josephine Speaks
Upcoming Volunteer Trips to Uganda
Meet New Give Us Wings Staff in Uganda
St. John's Kayoro Health Centre II
Remembering Fatuma
Upcoming Events
19th Annual celebration was a huge success!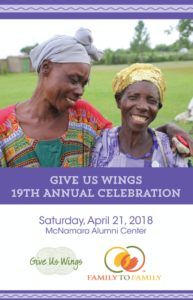 Your support made the Celebration on April 21st in Minneapolis an amazing success. Together we raised over $184,000! Your support and generosity makes it possible for Give Us Wings to offer high quality, effective programs that help our partners raise themselves out of deep poverty and create a sustainable future for themselves and their communities.
Thank you again for your enthusiastic support of Give Us Wings.  We look forward to seeing you on April 13, 2019 when we will celebrate our 20 year anniversary!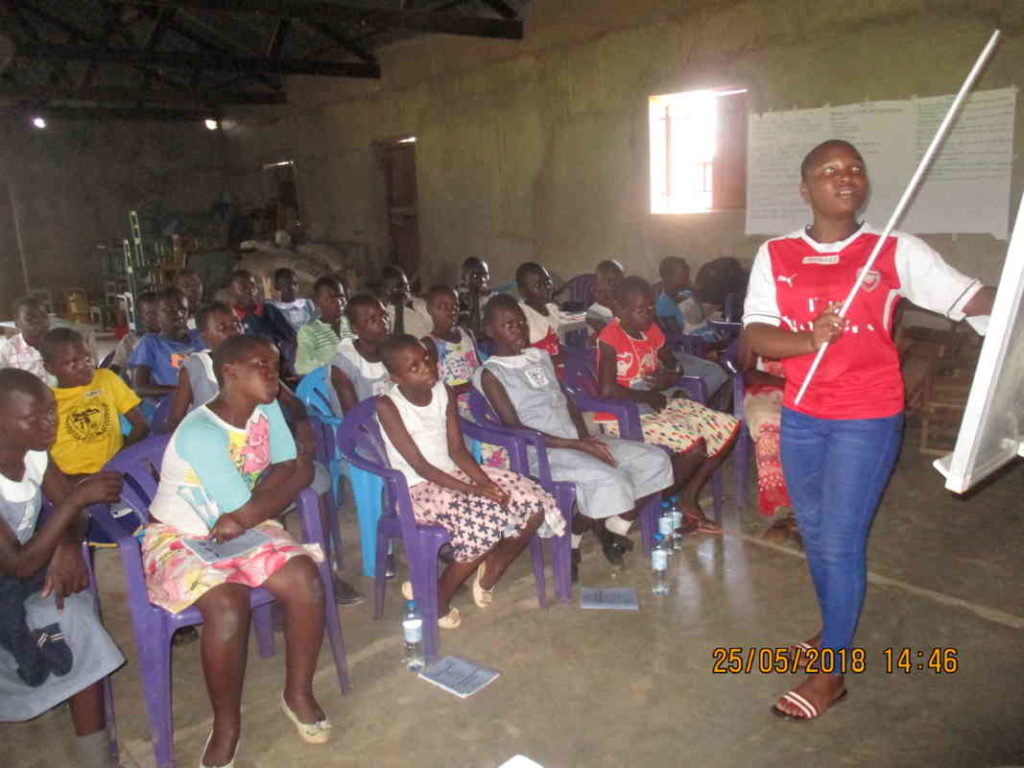 Family to Family: Josephine Speaks
The focus of the most recent Children's Forum (May 2018), was on career guidance and counseling. Led by a facilitator and Give Us Wings Uganda staff, the children discussed career goals, and the various challenges and solutions to achieve academic, social and emotional development. Some of the older students shared what it's meant for them to be part of Give Us Wings' Family to Family Sponsorship Program. Here is what Josephine Anyango (pictured here in the red shirt) had to say:
"We were two, my big sister and I, and we were living with my father and stepmother. She hated us so much and mistreated us. After my sister took her Senior Four examinations, she escaped and joined our mother in Moroto a district in North Eastern Uganda and she has never appeared. I was younger I did not have any contacts for our mother and therefore I was unable to join her and my sister. I attempted twice to escape from my father's home to go to the city with my friends to find house-keeping jobs but I did not know where to go. So I was taken to police station where my father was called to come and pick me in a nearby district to Kampala city called Mukono.
My father picked me from there with my friend and brought us back to Tororo.  When Auntie Christine and Aunt Sarah heard about this they called me to GUWU office, they discussed with me and asked why I had attempted to escape from home and I told them that my stepmother did not like me. She gave me a lot of difficult work such as fetching eight jerrycans of twenty liters of water every time when I was back from school in the evening, plus other household chores, she beat me often and abused me. Aunt Christine and Aunt Sarah called my dad they told him the problems that I was facing at home. They also got for me psychological counselor who counseled me and I started looking at education positively. My stepmother was also trained in positive parenting during Parents Forum training and her bad attitude about me has changed. My father paid for my boarding fee at Prime View and I had enough time to read and pass my Primary Leaving examinations.
Today am in Senior One at Dabani Girls school. I pledge to complete my studies and in future I want to be a Bank Manager. Also my stepmother now loves me and during this holiday she got for me a teacher to coach me. I give thanks to Give Us Wings who have helped to give me a bright future."
[Ed. Note: "Auntie Christine" and "Aunt Sarah" are Christine Anyango, Family to Family Program Officer and Sarah Muzaki, Africa Program Director.]
Two Upcoming Volunteer Trips to Uganda
We're planning two volunteer trips to Uganda!  March and August 2019.
This could be the opportunity you've been waiting for!
Interested? Check out our "Volunteer in Uganda" page  and/or call us 651-789-5607 to learn more about this exciting opportunity of a lifetime.
PLEASE KEEP READING!