This holiday season, give your friends and loved ones unique and thoughtful gifts.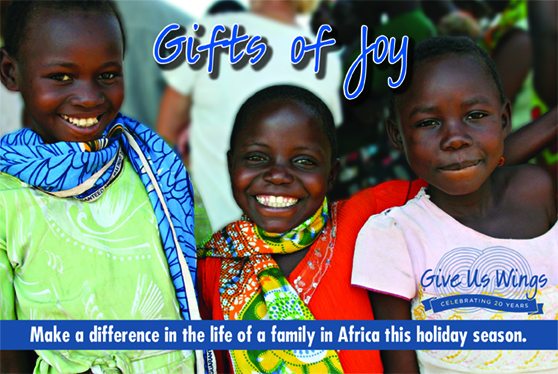 Give the gift of Education, Health Care, and
 Economic Sustainability.
Donate to Give Us Wings in honor of a friend or loved one, and give families in Uganda the gift of… school supplies, uniforms and shoes, a solar lantern, a goat, well-baby training and supplies, mosquitos nets, or business start up funds. There are many possibilities. Shop our our online catalog now.
Give Us Wings will send a lovely gift card to you (or directly to the recipient) telling them of the life-changing gift you have given in their name.
(If ordering as Christmas gifts, please order by Dec. 19)
Give Us Wings' Gifts of Joy online catalog is secure and easy to use. You may also call our office at (651) 789-5606 and place your order over the phone. And, of course, feel free to email  coordinator@giveuswings.org with any questions!
THANK YOU for choosing to give Gifts of Joy.