Posted on
WELCOME to the latest edition of the Give Us Wings quarterly  newsletter.
Please take a few moments to learn about some of the important work you make possible as well as ways you can help Give Us Wings to keep moving forward. There is much to be proud of, and much more work to be done!
Below are a few of the articles from this issue. To be directed to the entire newsletter click here.
In this issue:
Gifts of Joy
#GUW20for20
Founders Event Recap
Surprise Donation = Inpatient Ward Construction!
Give to the Max Day Results
Days for Girls Partnership
GIFTS OF JOY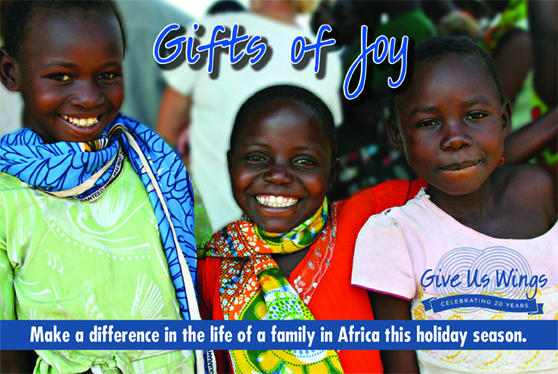 This holiday season, consider making a donation in honor of a friend or loved one. Order by December 19 and we'll send them a card letting them know of the thoughtful gift you gave in their honor!
This year, give Gifts of Joy!
#GUW20for20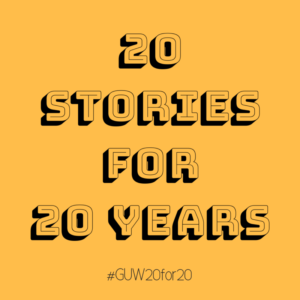 This fall we posted 20 stories on Instagram and Facebook of people Give Us Wings has impacted in our first 20 years of operation. We called it #GUW20for20. Our goal is to bring the people of Kenya and Uganda closer to you through their stories. Check out #GUW20for20 on Instagram or Facebook (or on our website under "Real Stories of Impact".
Here is one story:
In 2015, Oburu Charles was an 8-yr-old boy living in the remote village of Kayoro, Uganda with his grandmother.  He occasionally attended an under-resourced public school.  Because there was little food at home, Oburu would often skip school and search for food instead. Oburu's circumstances had left a their mark on him.
His growth was stunted and he rarely smiled or talked. His grandmother is living with HIV/AIDs. Oburu had a tough time in school and saw no future for himself. He was shy and bullied and had no confidence — he was completely unengaged. He was chosen in 2015 for the Family to Family Sponsorship Program and has since been called the "Miracle Child" by his teachers! He now runs and plays with his friends, loves school and his teachers, and shows normal developmental progress.  He hopes to perform well at Mama Junior Primary and one day become a teacher. He is in the boarding section along with other sponsored students where he is well-fed and cared for. These days, Oburu never misses a day of classes and enjoys visiting his grandmother during holiday breaks.
Founders Event Recap
On October 11th, Give Us Wings supporters gathered in Saint Paul for our Annual Founders Event.
It was a memorable evening featuring updates from Uganda and hopes for the future, our African art boutique, great food and drinks, and live jazz from Batumé & Co.
This year's event was particularly memorable because we officially launched into our 20th year and Executive Director, Therese Anderson, and Program Coordinator, Betsy Davies, presented the 2018 Restoring Hope Award to Give Us Wings Co-Founders, Mary Steiner and Shawn Whelan! After many years of Mary and Shawn bestowing this honor to others, they graciously gave us the opportunity to honor them.
20 years ago, Mary and Shawn did more than just connect with the people. They listened and learned… and then skillfully, thoughtfully, powerfully, brought those stories and lessons back here to all of us so that we could do what we could to bring about change.
Please take a moment to watch this video that we showed that night. It features Mary and Shawn doing the important work of establishing relationships and creating foundation for Give Us Wings in Kenya and Uganda.
Generous Donation in Honor of Mary and Shawn Results in Construction of Inpatient Ward!
Shortly before the Founders Event in October, Give Us Wings received exciting news from a longtime donor saying that he and his family were going to make a donation that night in honor of Co-Founders Mary Steiner and Shawn Whelan. The community and staff at Give Us Wings Uganda and St. John's Kayoro Health Center II knew just where to use this generous donation — begin construction of an inpatient ward! The blueprints had been drawn up, they just needed funding. Having rooms for patients to stay overnight was the next step closer to getting St. John's Kayoro Health Center to a Level 3 Facility — open 24 hours a day, 7 days a week! We sent the funds, and a local construction company got to work right away. We will keep you posted on this exciting development!
PLEASE KEEP READING!
Posted in Blog, Uncategorized.