WELCOME to the latest edition of the Give Us Wings quarterly  newsletter.
Please take a few moments to learn about some of the important work you make possible as well as ways you can help Give Us Wings to keep moving forward. There is much to be proud of, and much more work to be done!
Below are a few of the articles from this issue. To be directed to the entire newsletter click here.
In this issue:
Gifts of Joy
#GUW20for20
Give to the Max Day Results
Days for Girls Partnership
GIFTS OF JOY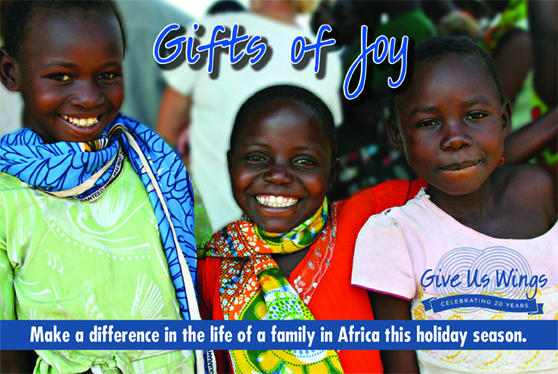 This holiday season, consider making a donation in honor of a friend or loved one. Order by December 19 and we'll send them a card letting them know of the thoughtful gift you gave in their honor!
This year, give Gifts of Joy!
#GUW20for20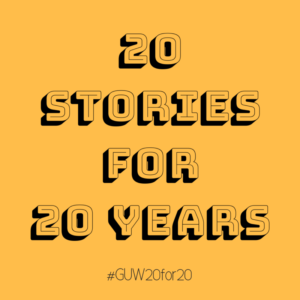 This fall we posted 20 stories on Instagram and Facebook of people Give Us Wings has impacted in our first 20 years of operation. We called it #GUW20for20. Our goal is to bring the people of Kenya and Uganda closer to you through their stories. Check out #GUW20for20 on Instagram or Facebook (or on our website under "Real Stories of Impact".
Here is one story:
In 2015, Oburu Charles was an 8-yr-old boy living in the remote village of Kayoro, Uganda with his grandmother.  He occasionally attended an under-resourced public school.  Because there was little food at home, Oburu would often skip school and search for food instead. Oburu's circumstances had left a their mark on him.
His growth was stunted and he rarely smiled or talked. His grandmother is living with HIV/AIDs. Oburu had a tough time in school and saw no future for himself. He was shy and bullied and had no confidence — he was completely unengaged. He was chosen in 2015 for the Family to Family Sponsorship Program and has since been called the "Miracle Child" by his teachers! He now runs and plays with his friends, loves school and his teachers, and shows normal developmental progress.  He hopes to perform well at Mama Junior Primary and one day become a teacher. He is in the boarding section along with other sponsored students where he is well-fed and cared for. These days, Oburu never misses a day of classes and enjoys visiting his grandmother during holiday breaks.