WELCOME to the latest edition of the Give Us Wings quarterly  newsletter.
Please take a few moments to learn about some of the important work you make possible as well as ways you can help Give Us Wings to keep moving forward. There is much to be proud of, and much more work to be done!
In this issue:
20th Annual Celebration Results
Shadrack's Story
Florence's Story
Uganda Women Entrepreneurship Program
My Little Pony Convention Results
Ride with Team Give Us Wings on September 8th
Upcoming Events
20th Annual Celebration a Huge Success
Our 20th Annual Celebration on April 13th in Minneapolis raised over $232,000 making it our single biggest fundraiser in 20 years! We were thrilled to share the good news with our partners in Uganda. Thank you to everyone who attended, donated, volunteered and donated auction items! Special thanks to our Event Sponsor: The LAB; our Wine Sponsor: Johnson Brothers; and our Print Sponsor: Allegra. This was a night to remember. SAVE THE DATE! 21st Annual Celebration on April 25, 2020!
20TH ANNIVERSARY VIDEO
Family to Family Program: Shadrack's Story
When Give Us Wings enrolled Okoth Shadrack and his family in the Family to Family Sponsorship Program in 2016, he was 10 years old and in the 4th grade. He did not know how read or write. Fast forward three years, and Shadrack is among the best performing pupils in his class at Maama Junior Primary School where he is a boarding student along with many of the other sponsored children!
His success is due, of course, to his hard work and determination, but is also due to the support of his mother, his wonderful teachers, Give Us Wings Uganda staff, and his sponsor in the US. He is well fed, well cared for, and is learning every day.
"My son performs so well in his class; he is liked by every teacher. This has made me also to be known and liked by every teacher at school. Whenever I visit the school my presence is noticed, as they call me the mother of Shadrack! My son has made me proud." – Irene Okumo, June 2019.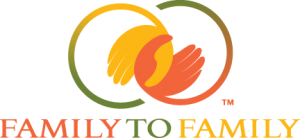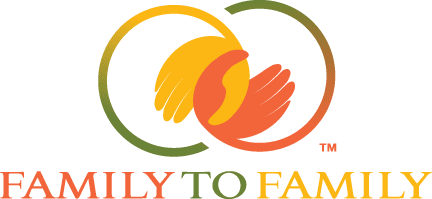 You can partner with a family in Uganda and help to create a better future for a child and their family. Visit the Family to Family page on our website to learn more.
Life-Saving Health Treatment for Florence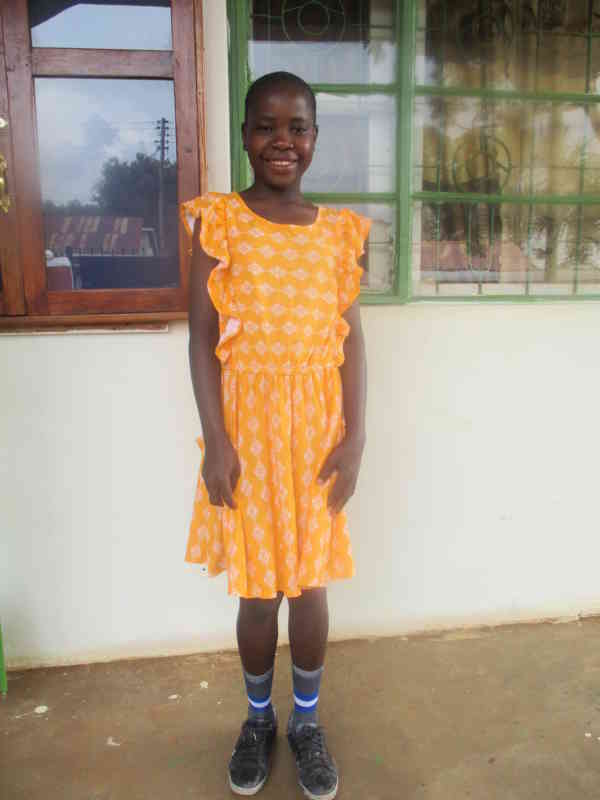 Her teachers were worried. So was her mom. A couple of times each month 11-year-old Florence would just…collapse. It appeared she was having seizures. The school nurse at Maama Junior and the medical staff at St. John's Health Center treated Florence for malaria, but her seizures continued.
In the beginning of April, after the "collapsing episodes"  became more frequent, St. John's Kayoro Health Centre ll, in coordination with the school, referred Florence for further medical attention.
With emergency funds from the Family to Family Program, Program Officer Christine Anyango took Florence and her mother to a clinic in Mbale, Uganda to see a pediatrician. The doctor ran a variety of tests and concluded that Florence may have a form of Epilepsy. He prescribed medicine and instructed her come back for a follow up visit in May. Christine took Florence and her mother back to the doctor in Mbale in May and again just last week.
Since she started taking the medicine in April Florence has not had a single episode! She is back at school with her friends in Primary 5 and doing well. She will have another follow up visit at the end of June, but the doctor is confident that the medicine is working.
This treatment likely saved Florence's life, and most certainly made it possible for her to continue to get an education. This is the life-changing work that happens as part of the Family to Family Program and because of the dedication of this child, her mom, the teachers and nurses at her school, and the staff at the Give Us Wings Uganda office.
Give Us Wings Approved as a Nonprofit Partner by Uganda's Ministry of Gender, Labour and Social Development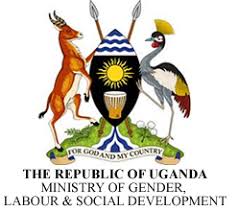 Sarah Muzaki, Give Us Wings Africa Program Director, recently shared the good news that Uganda's Ministry of Gender, Labour and Social Development  (MGLSD) has approved Give Us Wings as one of their partner NGOs! Specifically, we are partnering with the Uganda Women Entrepreneurship Program (UWEP). This is an initiative by the government to improve women's access to financial services, equip them with the skills for enterprise growth, value addition and marketing of their products and services.
Sarah says, "Give Us Wings Uganda was approved to offer capacity building services to the groups in Tororo district. These services will be mainly in areas of group governance strengthening, financial literacy, and value chain development as Government provides low cost micro finance services to the groups. The program is a 5-year undertaking which started last year. Our district in Tororo is one of the four districts selected for this pilot period. Give Us Wings' Entrepreneurship and Livelihoods Development (ELD) Program Officer, Winnie Mukima, will be responsible for program implementation."
Record-Breaking Donation from My Little Pony Convention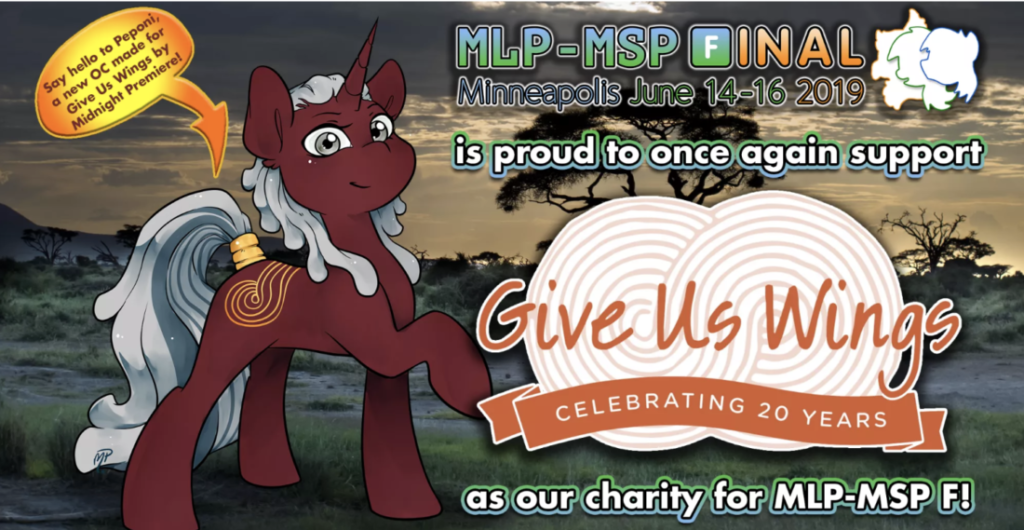 You might remember that a few years ago, Give Us Wings was the charity partner chosen by the My Little Pony (MLP-MSP) convention. Sadly, the convention came to an end. We were so pleased that new organizers, Charlie Worthley and Cody Miller, brought the convention back to the Twin Cities and kept with tradition by choosing Give Us Wings as their charity partner! We had an information table in the lively vendor room from June 14-16, and ended the weekend with the Charity Live Auction. There were over 70 pieces of MLP memorabilia up for bid and at the end of the 3-hour live auction auction the results were record-breaking— over $12,500 raised for Give Us Wings!
We were overwhelmed by the outpouring of kindness by the organizers, volunteers and attendees. Give Us Wings will use a portion of the funds to purchase the 20 beds required for the new inpatient ward at St. John's Kayoro Health Center. Thank you MLP-MSP! You have a special place in our hearts.
Team Give Us Wings Rides Again! September 8!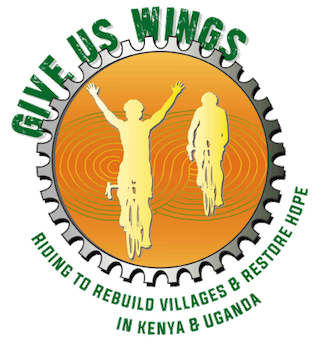 Hop on your bike and ride with us in the Saint Paul Classic Bike Tour on September 8! Be an active participant in this family-friendly, outdoorsy, heart-pumping, fun and healthy annual Give Us Wings fundraiser.
In honor of our 5th year participating in this great ride, we'd like to have 60 riders to be part of our team!  Choose either 15 or 33 miles … or you could do both. It's NOT a race. It's a fun, mostly-traffic-free, snack-filled, supported bike ride around beautiful Saint Paul.
STEP 1) REGISTER BY SEPT. 5TH!

You have to register with the Saint Paul Classic Bike Tour and pay their registration fee and sign their waivers.
GREAT NEWS! The Classic is extending the Early Bird price for Give Us Wings riders this year!  Be sure to use this link.
STEP 2) SIGN UP WITH GIVE US WINGS!
Fill out this short form so that we know you're riding on Team Give Us Wings.
STEP 3) FUNDRAISE!  $150 or more
That's right! Sunday, September 8 will not only be a fun day of biking, it's one of our fundraisers! We ask that each rider raise at least $150 for Give Us Wings. If we can get 60 riders to raise $150 each, we'll meet our $9,000 goal!
SEPTEMBER 8, 2019
SAINT PAUL CLASSIC BIKE TOUR
Sign up for the Saint Paul Classic Bike Tour as part of Team Give Us Wings!
Sunday, September 8, 2019. MORE INFO.
OCTOBER 24, 2019
ANNUAL FOUNDERS EVENT
Our annual event to thank our devoted donors, provide program updates, and give the opportunity to pledge support for the coming year.
MORE INFO.
APRIL 25, 2020
21ST ANNUAL CELEBRATION
Our biggest fundraiser of the year! SAVE THE DATE!
MORE INFO.