Posted on
Please donate to Give Us Wings this year on
Give to the Max Day!
The final countdown to Give to the Max Day is on! November 14, 2019.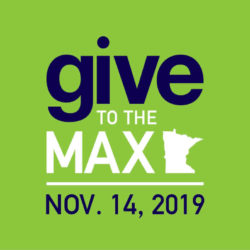 As you decide where to make donations on this special day of giving in Minnesota, please consider making a donation to Give Us Wings.
All gifts made to Give Us Wings using this link now through November 14th will count toward the Give to the Max day, making those donations eligible for all Give to the Max Day prizes (i.e. increasing the impact of your donation!)
This year for our Give To the Max Campaign we are focusing on raising funds for Give Us Wings Uganda's Entrepreneurship and Livelihoods Development Program. The primary goal of this program is to improve the socio-economic wellbeing of women and youth in Eastern Uganda. Give Us Wings needs funds so that we can help new and established cooperatives improve their own management, productivity and marketing in order to increase the income of their members (families- many of whom are farmers).
Please donate what you can, and help us reach our $4,000 goal today!
Your donation to Give to the Max Day will help. Here are some examples of how your donations will be spent:
$25  – Capacity Building training
$50 –  Food Security and Nutrition training
$100 – Leadership and Good Governance training 
$150 – Financial Literacy training
In addition, your donation will increase our chances to win Give to the Max Day prizes! Each donation that Give Us wings receives will be entered into a drawing. On November 14th, every 10 minutes GiveMN will randomly select a donation and award that nonprofit $500! Plus, each day from now until November 14th, GiveMN will select a donation and increase it by $500.  There are so many more prizes you can check out HERE.
Steps to make your donation:
Visit this link
Click the Donate button
Select your donation amount
Fill out the necessary information
Enjoy the rest of your day knowing you contributed to Give Us Wings' Entrepreneurship and Livelihoods Development Program.
We can not thank you enough. You are helping to rebuild villages and restore hope with every donation. 
Posted in Events, Uncategorized.