Our Africa Program Director, Sarah Muzaki, will be stepping down from her position effective April 30. Sarah has been integral to the success of Give Us Wings Uganda (GUWU) and she will be sorely missed. We thank Sarah for her many contributions during her six years with Give Us Wings, and we wish her all the best in her future endeavors.
We are working with GUWU's National Advisory Team (comprised of local leaders and members of the community) to find Sarah's replacement. Unfortunately, this process has been delayed because of the pandemic. In the meantime, GUWU's Program Coordinator, Moses Obenen, will be stepping in as Interim Director. Moses has been with GUWU for 2 years and he is conversant in all aspects of our programs. Sarah spent a considerable amount of time working with Moses and other staff members to build their leadership capacities; I am confident that Moses will ably lead GUWU until we find a new director.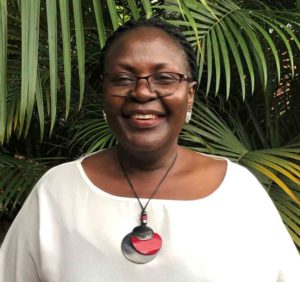 Many of you have gotten to know Sarah over the past 6 years and are familiar with her professionalism, kindness and true dedication to helping people. Under her leadership, GUWU has thrived and expanded its scope of services. The St. John's Kayoro Health Centre has grown from one main building to now include a maternity ward, inpatient wards for men and women and staff housing for two nurses. The clinic is now open 24-hours a day and last year the clinic provided services to over 17,000 people! Our very successful Family to Family program was launched shortly after Sarah joined us. She has helped us develop a program that is changing the lives of hundreds of people and developing the leaders of the future. Additionally, Sarah has led the way in expanding the geographic scope of GUWU. Staff are providing members of farmers' cooperatives in Tororo District and two adjoining districts with training in financial literary, leadership, coop management and agricultural business and helping our partners become self-sufficient.
While I will miss working with her and I am disappointed that Sarah won't be renewing another 3-year contract with Give Us Wings, change is inevitable and often good for an organization. With your continued support, Give Us Wings will continue to thrive and help our partners transform their lives.
Thank you for your loving and generous support,
Therese Dosch Anderson
Executive Director
director@giveuswings.org
(651) 789-5607