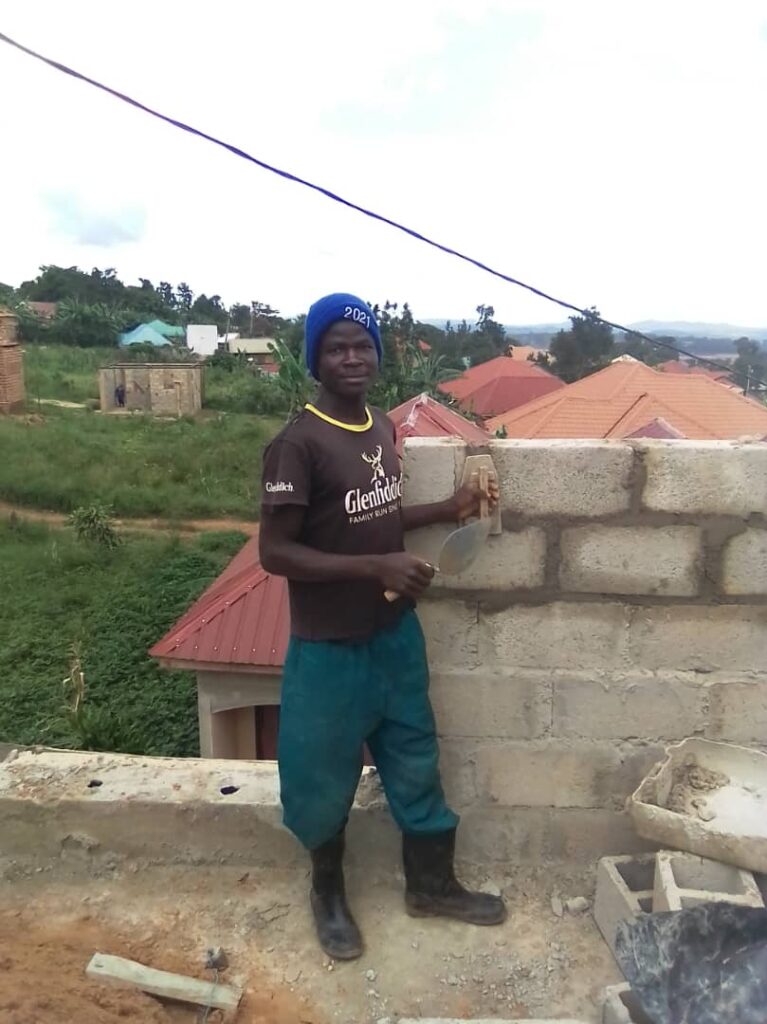 Emuria and his grandparents were enrolled in our sponsorship program in 2016. He was about 12. The family was struggling and had no money for school fees, so he rarely attended his local school. When he was finally enrolled in a private school through our sponsorship program, it quickly became apparent that traditional subjects were challenging for him (though he did perform fairly well in math). In many ways, he benefitted from being at school — he immediately made friends, was well-fed and cared for at school, learned from devoted teachers, and he tried his best to pass his courses.
However, he continued to struggle academically as the years went on. He did pass eventually, making it to Primary 7, but he did not pass his PLE at the end of the 2018 school year. This meant he would not be going to Secondary School; and because he had already repeated grades, he would not be repeating Primary 7. And while this was discouraging news, thanks to the support of his sponsors and because our Family to Family Program aims to make sure each child finds success in their own way, Emuria had another option. Give Us Wings Family to Family Program staff in Uganda asked Emuria, "What skill would you like to learn?" He immediately expressed an interest in construction, so Give Us Wings enrolled him in nearby Iyolwa Technical School and he was thrilled.
His first report card that year came back with A's and B's in Bricklaying, Health & Safety, Tools & Equipment and more! He was thriving. His sponsors wrote encouraging letters saying, "Thank you so much for your recent letter. My wife and I are happy to see you are making such good progress in your school and construction work training. It's a very important field to be in, and we know you will do well." With the financial and emotional support of his sponsors, along with the support of Give Us Wings staff, and his friends and grandparents, Emuria has continued to do very well.
In 2020 Emuria wrote, "This course has changed my life. Before I even complete the courses I am able to earn something for a living. Even during lockdown I was able to work in the construction sites. I am eager to complete the course and then enter into the real life of construction business."
Emuria is 18 now and currently working at a construction site in Kampala. When lockdown is over, he will have a few more courses to complete at the technical school. Christine Anyango, Family to Family Program Officer, reports that Emuria is doing very well and is excited about the skills he has acquired and dreams of being a construction supervisor. He is earning an income and can support his grandparents to purchase basic necessities. He also has girlfriend who is helping his grandparents with household chores while he is away.
This photo was taken by one of Emuria's friends and coworkers last month. He was eager to share it with Give Us Wings and his sponsor. And we wanted to share it with all of you.
The path to success and the definition of success for each child is different. We are proud of Emuria and we are pleased that the Family To Family Program has continued to be of great benefit to him and his family. Please join us in congratulating him. And thank you to his sponsors and all who support Give Us Wings. Imagine the impact Emuria will continue to make on the health and well-being of his grandparents, his future family, and the community.