Give Us Wings, in collaboration with community groups, built two clinics. The first was the Nyaoga Community Dispensary in rural Kenya, which is now operated by the Kenya Ministry of Health. The second is St. John's Kayoro Health Center II in eastern Uganda, which Give Us Wings continues to operate and support. Both clinics provide affordable, quality health care to thousands of people each year.
ST. JOHN'S KAYORO HEALTH CENTER II, UGANDA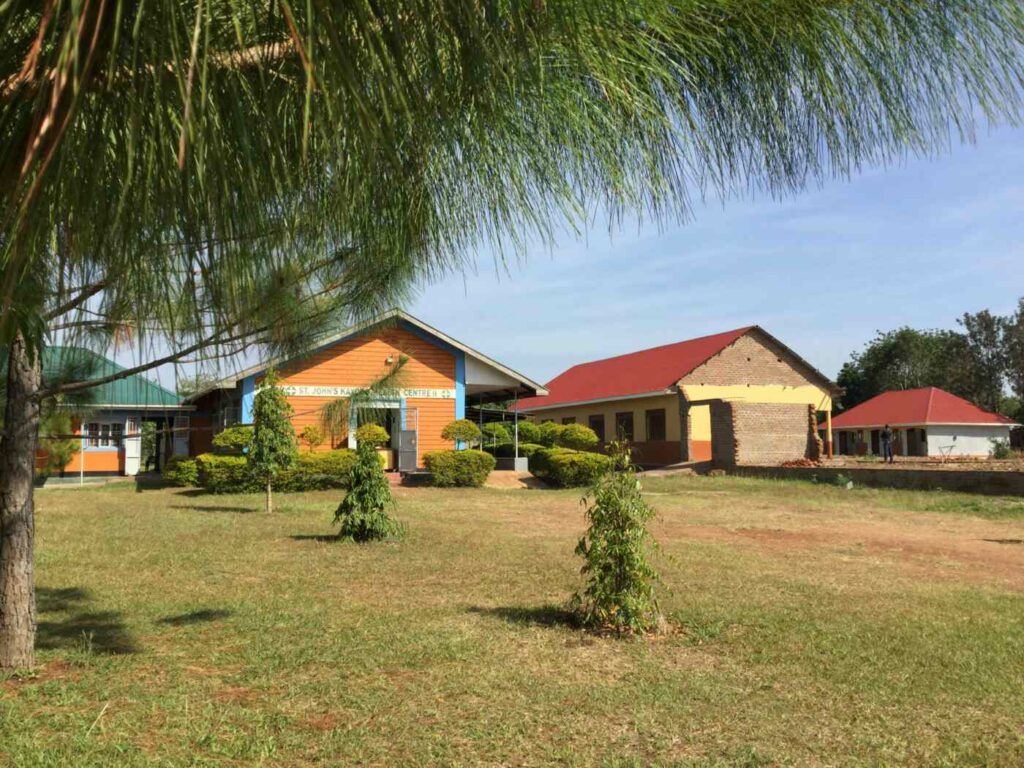 The hard-working people of Kayoro, Uganda did not have access to a clinic. People were frequently ill with a variety of diseases. However, they seldom received treatment because they could not afford bus fare to the hospital several miles away. People suffering from malaria could not access treatment, pregnant mothers did not receive prenatal care and when their babies were born there was no place to take them for well-baby checks and immunizations.
Several community-based organizations in Kayoro, with which Give Us Wings partners, requested that Give Us Wings assist them in having a clinic built in their community. Give Us Wings partnered with St. John the Evangelist Episcopal Church in St. Paul, Minnesota, to raise the funds to build a clinic. The St. John's Kayoro Health Center II opened its doors in 2011.  Over the years it has expanded in size and in the types of services offered. Today, there is a maternity ward, staff housing, an inpatient ward, 24 hour care, electricity and running water. Clinic staff provide hundreds of medical services to the community, including emergency care, prenatal care, immunizations, treatment for common diseases, such at malaria, diabetes and cervical cancer, to name just a few.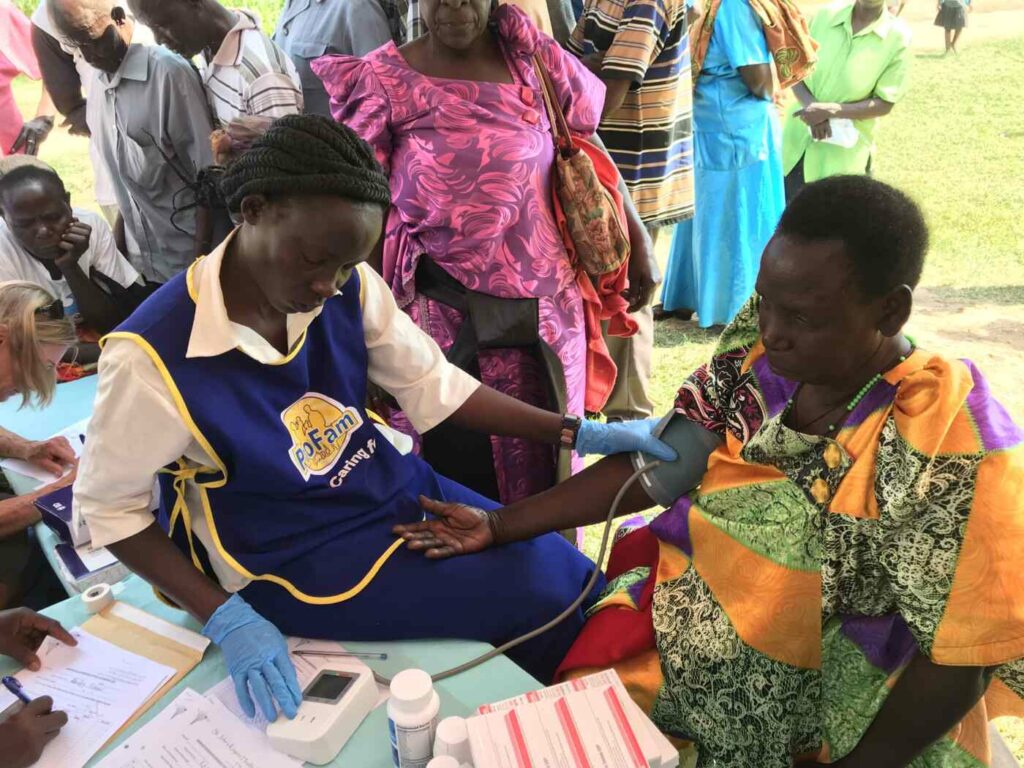 Clinic staff bring basic health care to other rural areas that do not have access to a clinic. At health care outreaches, clinic staff offer services such as HIV/AIDS testing, family planning counseling, and Hepatitis B vaccinations, thereby expanding the impact of the clinic.
The health of the community is improving, but many more medical services are desperately needed. They have also expressed an interest in starting a child nutrition center to educate the community on the importance of nutritious foods and healthy lifestyles. This area of Uganda has a very high prevalence of sickle cell anemia. The clinic staff hopes to establish a Sickle Cell Anemia practice. They will screen people and identify those with the condition, provide treatment, and teach them how to manage their disease in order to improve their life expectancy.
There is much work to be done in Kayoro and the team at the St. John's Kayoro Health Center is ready to tackle the challenge of improving the health of the entire community. They need your help to expand and improve the medical services they provide to thousands of people each year.

We need your help and financial support to enable the St. John's Kayoro Health Center II to continue their life-saving work. You can make it possible for them to expand medical services and increase the number of communities they serve. Your support makes it possible for us to bring quality health care to thousands of people each year.
NYAOGA COMMUNITY DISPENSARY, KENYA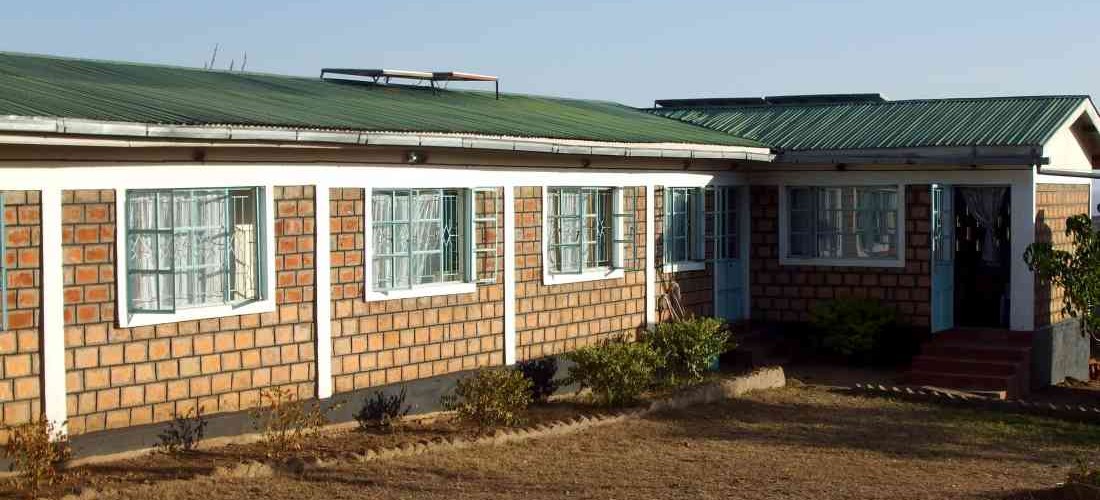 When Give Us Wings arrived in Nyaoga, Kenya, in 1999, the people living in the community did not have access to health care. People suffered from a variety of diseases and conditions, including malaria, HIV/AIDs, typhoid, worms, skin diseases, eye diseases and many other horrible, but treatable conditions. Give Us Wings staff met with the members of community-based groups in the villages and discussed with them how best to improve the health of their community. Group members concluded that they needed a local clinic that would provide affordable, quality health care.
Give Us Wings, in cooperation with the Nyaoga Women's Group opened the Nyaoga Community Dispensary in 2008. A few years later, the Kenya Ministry of Health started construction on a separate building to house the maternity ward, but the building was never completed. in 2015, Give Us Wings received a grant from a foundation that enabled us to complete construction of the Nyaoga Community Dispensary (and the Lake Victoria Young Women's Academy). Give Us Wings installed ceilings in the main clinic building, constructed a shaded outdoor patient waiting area, completed construction on the maternity ward, storeroom and new laboratory.
Additionally we wired all the buildings for electricity and connected them to the power line that had been recently installed in the village. This made it possible for vaccines to be properly refrigerated, the laboratory can use more accurate testing equipment and the clinic staff don't have to use the light from their cell phone to help the midwife assist a laboring mother.
In June 2017, Give Us Wings completed its work in Kenya and transferred the operational responsibility for the clinic to the Kenya Ministry of Health, with the understanding that they would provide operating funds, medications, staff and would train members of the Nyaoga Women's Group to help manage the day-to-day operations of the clinic.