The members of the Victoria Young Women's Group are between the ages of 15 and 28. All of them were forced to leave primary school before graduating from 8th grade. It is a sad fact of life in rural Kenya and Uganda that girls are frequently forced to leave school before they complete their primary education. It is very difficult, if not impossible, for a young woman to return to school especially once she has children.  The members of the Lake Victoria Young Women's Group desperately wanted the opportunity to complete their primary education so the they could start businesses and support their families.
With the help of Give Us Wings and our donors, a two-room school house was built in 2009. Give Us Wings pays the salaries of the head teacher and the teaching assistant and provides books and supplies for the young women. While working hard to obtain their certification, these women continue to work manual labor jobs and raise their children. The school day is structured so that the young women can bring their babies with them to class. Something that is not allowed in traditional schools.
The first class of students graduated in 2010.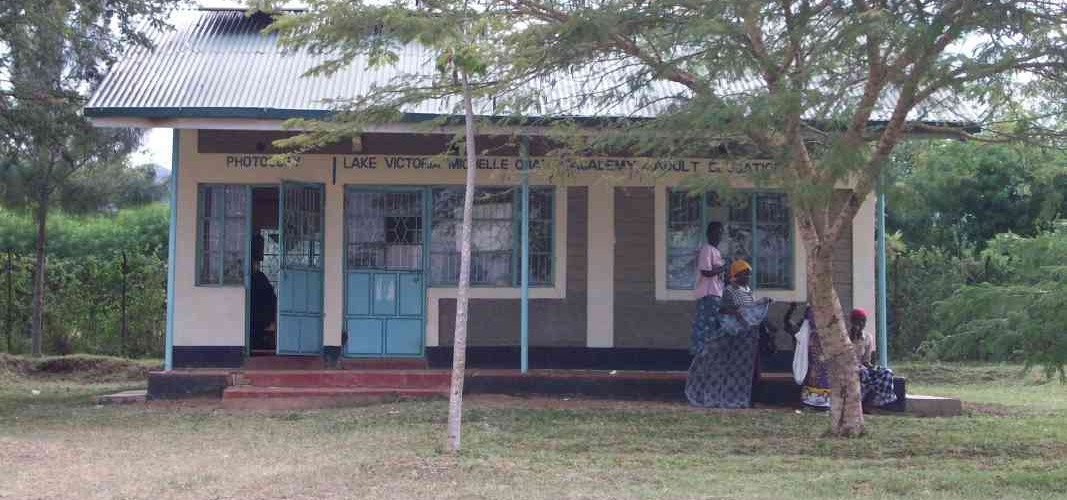 And since the building is solar powered, the rooms are lighted. This means that in the evenings, after they've done all their daily work and put their kids to bed, the young women can return to school and study. This is a significant and exciting change!
And early each morning, before the young women arrive, the older women in Nyaoga use the rooms in the school to develop their math, reading and business skills. The Nyaoga Women's Group Chairwomen's son has taken on the role as their teacher.
As the young women move on to the next grade, they are now working on deciding to how determine who will become the next students, and what the next steps will be.
The Victoria Young Women's Group Academy would have been a dream come true for Grace Atieno, a 22-yr-old mother from Nyaoga who passed away in 2004 from AIDS. She dreamt that one day her village would have a school where women were encouraged to learn how to support themselves. Her most treasured lifetime memory was chasing butterflies outside of primary school before she was forced to leave. The Victoria school's logo, the butterfly, symbolizes Grace's dream of providing the women of Nyaoga a way of out of their daily struggles.