March 9, 2022
Give Us Wings is pleased to share that the Board of Directors has unanimously voted to appoint Peter Carlson as the next executive director. Peter will assume this important role on May 16, 2022, succeeding current Executive Director, Therese Anderson who announced her retirement in November 2021.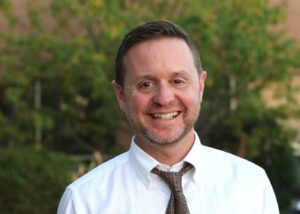 Peter's background as a leader in nonprofit organizations, combined with his deep passion for international nonprofit work, will help to further advance the mission of Give Us Wings. He has established himself as a strategic and creative problem solver, a collaborative leader and an effective fundraiser. In addition to his professional nonprofit experience, Peter has twice volunteered in Africa (with other nonprofits), so he knows firsthand the vital role that nonprofits like Give Us Wings play in empowering communities that are affected by hardship and poverty.
"Peter personifies the passion, creativity and skills that are needed for the Give Us Wings executive director position," shared Anjie Flowers, Board Chair. "We are pleased to welcome Peter as our next visionary leader, and look forward to his contributions to the important work of encouraging, supporting and partnering with people living in extreme poverty in Uganda."
"I'm so excited to be joining the Give Us Wings team," Peter shared. "I've known of this organization and its good work for a long time, but I never dreamed I'd be asked to lead it. The opportunity is an honor, and I can't wait to dig in, meet everyone, learn more about the programs, and see what the future has in store."
Current Executive Director Therese Anderson shared, "I am confident that Peter will excel in this role as he works with the Board and staff in the US, and the community members and staff in Uganda. It is clear that he understands Give Us Wings' commitment to community-led development and shares our vision of people in rural Uganda living healthy lives with dignity and hope. Give Us Wings is well-positioned for continued success and meaningful change, and I look forward to working closely with Peter during this important transition."
More about Peter Carlson:
Peter comes to Give Us Wings with a Bachelor's Degree, a Master of Music and a mini-MBA for Nonprofit Organizations from the University of St. Thomas – Opus College of Business. Most recently he served as the Managing Director at Yellow Tree Theater. Prior to that, he was the General Manager of The Rose Ensemble. He serves on the Board of Directors at Hopewell Music Cooperative North in North Minneapolis.